Why Your Competitions Aren't Converting To Immediate Sales
by 22 Mar 2016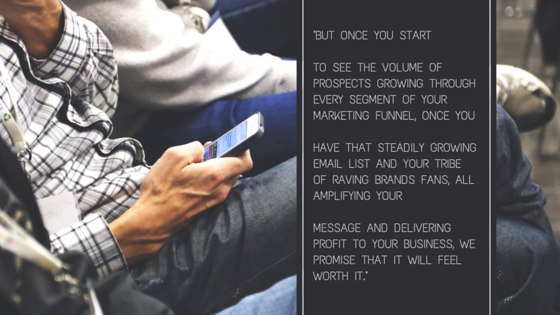 We've all been there. We fully plan a piece of marketing activity, like a media competition.
We're hopeful that this is the thing that will really open up sales to our business.
We push the button and….. nothing.
While it might feel like a failed endeavour, its better to view the experience as just one step on the
road to building an ongoing relationship with your customers.
It's not enough to simply make a prospective customer aware of your brand. The quickest way to
waste money is to do the marketing equivalent of standing in front of your target with a
megaphone, shouting product features and benefits. Unless you are a necessity item with little
competition, the process from the first time a person becomes aware of your brand to the point at
which they decide to buy from you takes a little time. Effective marketing has always been about
having a conversation with the people whose problems you solve. That has never been more
obvious than in today's fragmented, more democratic, digital media environment.
The process this conversation takes is typically called a Marketing Funnel, and this has become a
little more sophisticated in recent years. A marketing funnel is the series of contacts you have with a
prospective customer with the ultimate objective of converting their interest into sales.
In this process you have to first make them aware of your brand and its meaning. More than just
recognising logos and taglines, the goal is for customers to believe your 'brand story'. A unique,
distinct and compelling brand story, consistently communicated will always connect more deeply
and effectively with your consumer than an impressive features and benefits list. It's a way to
differentiate from your competition and will allow you to exchange more value with your customer.
It can compel them to chase you rather than the other way around.
You don't want them to notice you then walk away and forget all about you. That's why advertising
on its own, without a marketing funnel, is rarely very effective. It's why popping up a Facebook ad or
doing a bit of PR and expecting sales to roll in with invariably lead to disappointment. Spend enough
money and you can convince anyone to take a fleeting look at what you are offering. However it's
not until you build emotional connections with them that they'll be convinced to come in close, to
care about you and to visit you more than once. This can take a little time. That's why a commitment
to nurturing your leads the full length of the marketing funnel is so important.
After your target customer has been made aware of your brand, they might want to find out a little
more. They might visit your website or go in store. At this point, you again have an opportunity tell
them a little more about your brand and how it can help them. Give them something of value in
exchange for their email address or social media 'like'. Ensure that you create the means for an
ongoing relationship. Remember, it's never about you. It's always, always about them, how you
solve their problems and how you make them feel. Spend enough time getting to know your target
and what makes them tick and this will feel like second nature. This is what we call the
'consideration' phase. The consideration phase will be longer for some prospects and businesses
than others. Keep your communications consistent, valuable and mutually beneficial.
Next, you'll want to convert this relationship into a purchase. There are numerous ways to trigger
this. The cheapest and most effective way is to show them how you can add value to their lives. Be
bold. In saturated segments or at times of the year when people are less likely to purchase,
sometimes a consumer might need a nudge in the form of a sale or a discount code. Consider this in
the context of the lifetime value of a customer.
Which brings us to the next phase. Loyalty. Once they've purchased from you, and you've delivered
and delighted, the value of that customers repeat purchase is as high as your business structure
allows.
That piece of advertising back when you first started your conversation with your prospective
customer, before you even saw a dollar? It might have left you feeling uncertain. But once you start
to see the volume of prospects growing through every segment of your marketing funnel, once you
have that steadily growing email list and your tribe of raving brands fans, all amplifying your
message and delivering profit to your business, we promise that it will feel worth it.
_________________________
Stacey Fisher | www.thebrandarchitect.com.au
Stacey is the founder of The Brand Architect, a branding agency dedicated to helping growing
businesses think bigger, increase efficiency and stretch their dollar further using the power of story.
Join over 1000 businesses sharing in over $10 million in media exposure Get Started
Related Blogs