My Top 3 Financial F*ck Ups
by Administrator 14 Dec 2015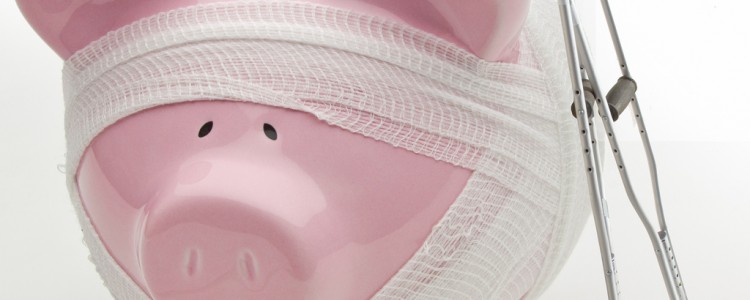 'Tis for season for the new budgets and counting all those future dollars. I wanted to share the biggest f*ck ups that I made in 2015, this should be therapeutic! :)
INFUSIONSOFT
Man, this is a powerful system, but I wasn't ready for it - and we had trouble connecting it to my custom website. I should have researched the custom capabilities a little futher before plunging in. My theory was to launch with the best of everything, so that I would never have to change systems. I now regret not just sticking with MailChimp till I was ready. Infusionsoft is an incredible system, but without the time and the right website plugins it was wasted on me unfortunately.
Piggy Bank Bust $5,400
AN OFFICE & STAFF
I had this incredible fantasy that when I had a business I would have a cool office with a killer playlist, awesome staff and a receptionist. Now, I'm thinking all of that stuff is a little old fashioned and I now know - we don't need it! I moved my office to home, and outsourced any help I needed, and it's so much smoother. Just the other day I wondered if I should look at a junior again. I wrote out a list of everything I would have them do, a tidy little job description. Then I gave it to my web developer and asked him to roll the functionality into the site. Much easier!
Piggy Bank Bust $16,840
POSTAGE
When the staff at the post office know your name...
You know how we sometimes do things one way, because that's how they've always been done? I am still shaking some of that off from my time at the corporates. When I was at a PR company, we send prizes on behalf of clients to the media outlets. So, when I launched the Pig I did the same thing. For no other reason than that's how it's always been done. It was crazy double handing, and didn't really benefit anyone. I even turned my little home garage into a warehouse, with custom shelving! I was forever treking to the post office to ship prizes, and chasing tracking numbers. Then one day, my website team that told me they'd automated it. I resisted, no! That's not how I wanted it, until I realised this was the best thing that ever happened! My advice for this is to do a task audit and review EVERYTHING you do, and ask yourself, is this really necessary?
Piggy Bank Bust $2,500 not including my time in line!
I have no doubt that I'm going to make more money mistakes in 2016 - but that's all part of the journey right.
Join over 1000 businesses sharing in over $10 million in media exposure Get Started
Related Blogs