5 Steps To Getting Featured In A Magazine - Guaranteed
by Administrator 27 Oct 2015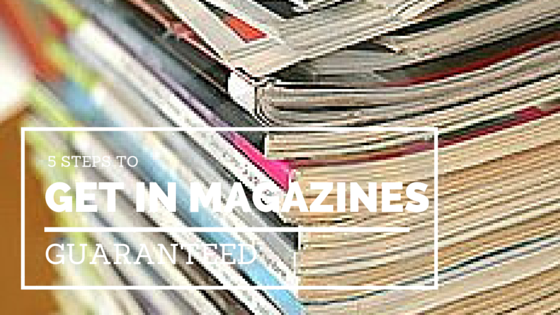 Competitions are a strategy used by big business and PR agencies for the quick and low cost media wins, however, it's not a strategy that small businesses are using. Prize Pig is here to change that, and give you the advantage! Let's go through the five steps to get it happening for your brand.
Step 1: Research Mission
Go to a big newsagency, and walk the aisle making note of the magazines that you think your target demographic would read. Select five that you would like to be featured in, and make sure you get your tax receipt.
Step 2: Have A Coffee
And flick through the magazines. Yes! this counts as working on your business, except instead of Kardashian gossip, you're looking for competitions. This could be in the 'letters to the editor' section, a giveaway page, or gift with subscriptions. Most magazines are peppered with prizes.
Step 3: Your Prize
The trick to magazine prizes is that each spot has a minimum prize value. For example, the letter to the editor giveaway may need a prize valued at least $200. Write down prize packages that you could come up with for each of the competitions for your brand. This could be your own product, a voucher to your website, or you could even buy a prize if you had a service based product. For example, if you have a budget app you would offer a $100 EFTPOS gift-card for the winner start moving towards financial freedom.
Step 4: Secure Intelligence
When pitching a prize to a big magazine it's important to say the right thing, and ask for the right contact otherwise you will be connected to a suave salesperson who will sell you the competition as well as a month's worth of ads! I've made thousands of cold calls to media and I'm excited to share my secrets. Firstly, save your pitch for the competitions contact, not the receptionist. That is a sure-fire way of not being connected to them!
You should be prepared from the earlier research mission. Now that you are armed with the name of the competition, simply introduce yourself to the receptionist – and ask who looks after the prizes for that competition. Easy! Here's an example. "Hi, it's Amanda from Prize Pig. Can you please pop me through who looks after the prizing for the Letters To the editor?" BOOM! Works every time.
Step 5: Contacting the Contact
There's a 95% chance that you will be connected to a voicemail. If that's the case explain the prize that you'd like to offer quickly and let them know you will follow up with an email.
Now that you have their full name from the voicemail, call the receptionist back and simply ask – I'd love to send an email to X – can you please let me know their email address?
An email for a competition pitch is very different to a regular media PR pitch. It's important to structure it to what they want, rather than information about you and your business. When you're writing the email, the information on your brand should be at the bottom and the prize you're offering including a picture should be right at the top! If you offer a prize that fits their demographic and is the right RRP for them, the chances of approval are upwards of 90%.
The Result: They Said Yes!
Do a little dance and make sure you share it on your socials. It's important to leverage and brag about any media across as far and wide as possible. This may include placing the media logo on your website, email signatures, adding a media page to your website, and even sending an email out to your community.
Now you know how to win publicity and new customers with competitions!

Join over 1000 businesses sharing in over $10 million in media exposure Get Started
Related Blogs